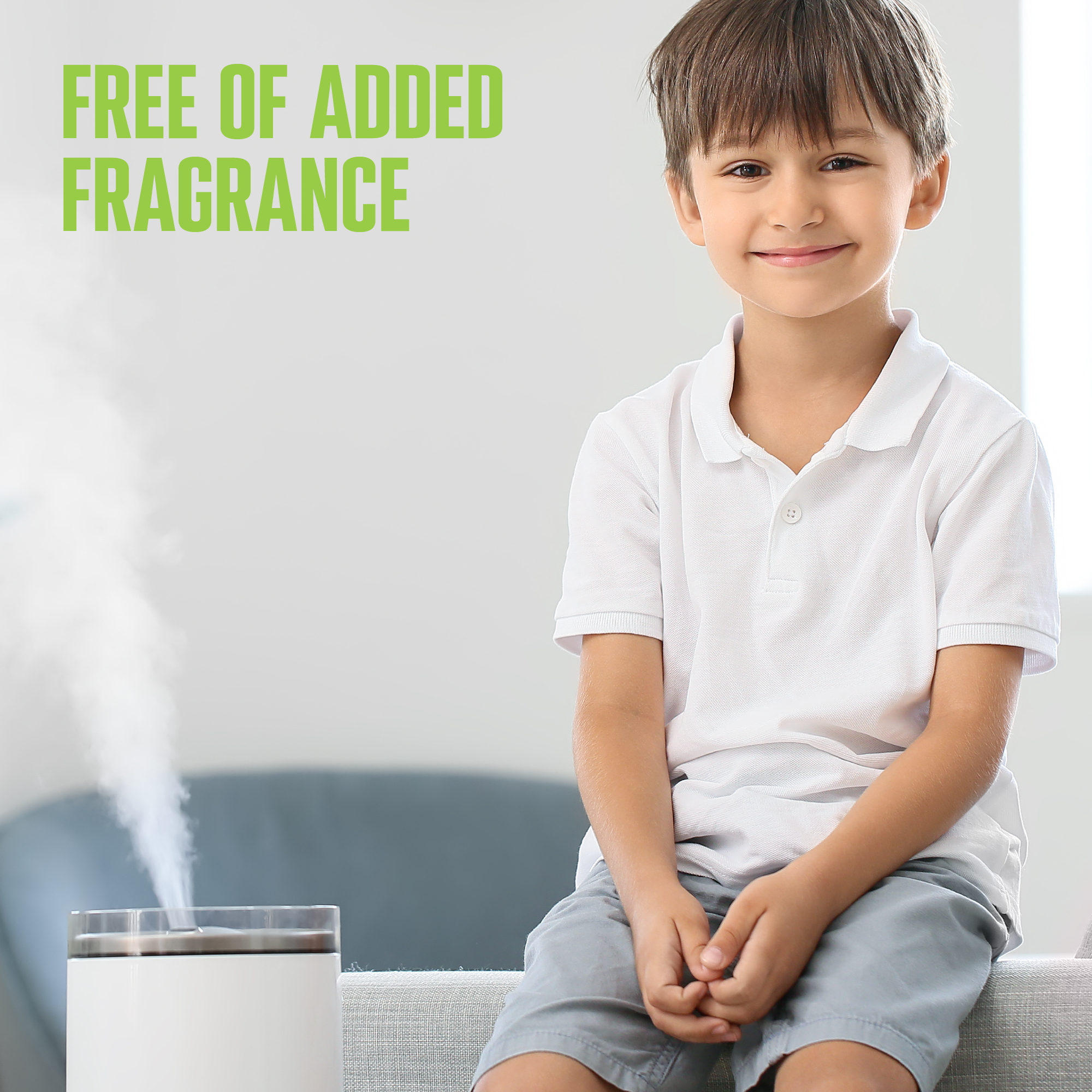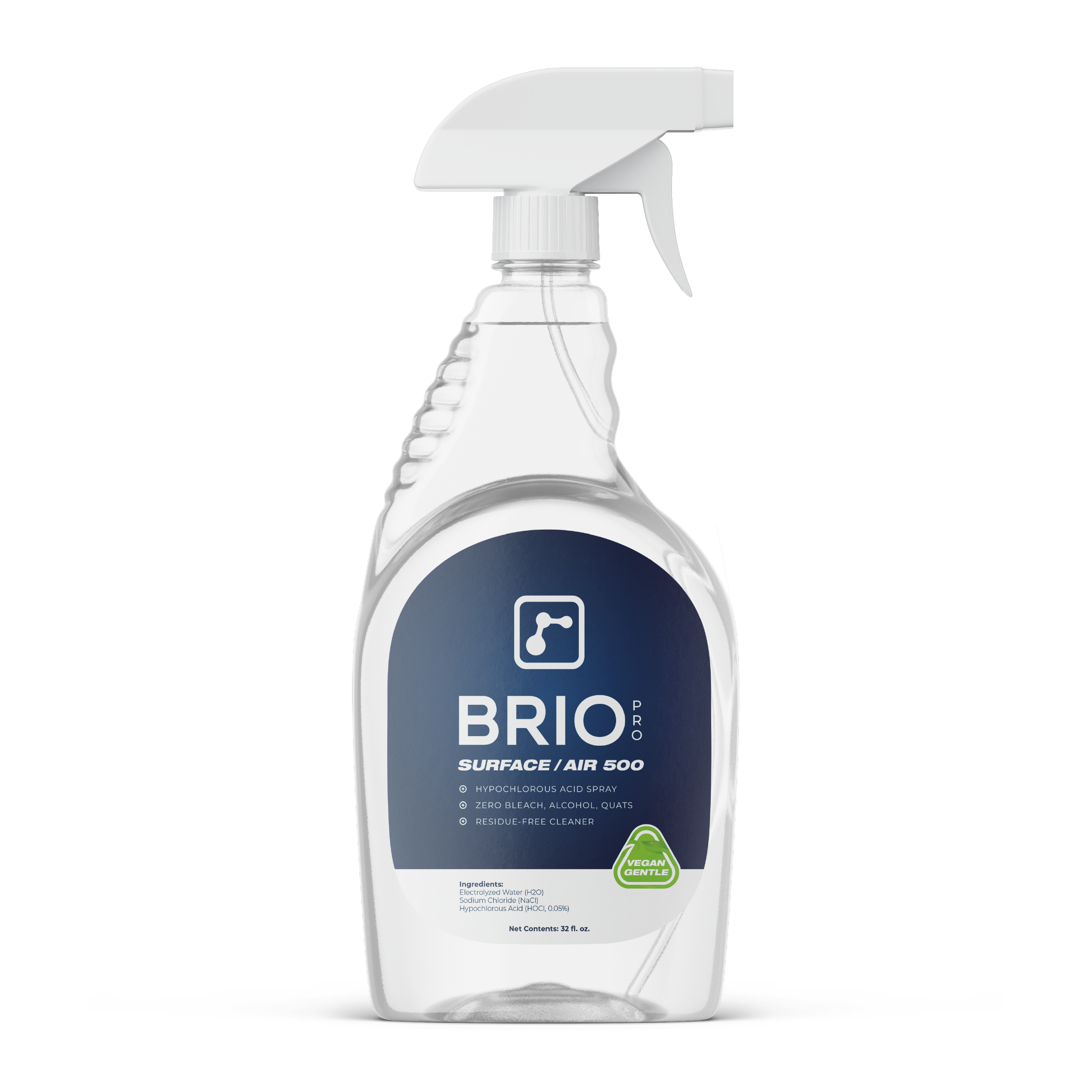 This hyper pure HOCl concentrate is a potent oxidizing agent that can be used for all your cleaning and deodorizing needs. Rinse free and can be sprayed on a variety of surfaces and in the air for a residue-free clean. Multi-purpose and ideal for use in professional settings such as businesses, dental offices, restaurants, and schools.

0.05% Strength

No PPE Required

Residue Free Formula

Free of Alcohol / Bleach

Free of Artificial Fragrance

Simple & Vegan Ingredients

Non-Flammable, Non-Corrosive
Directions: Shake lightly and dilute as needed with neutral or distilled water only. Fill cold humidifier device, fogger, or ULV sprayer and dispense on desired surface or area. Allow to air dry or wipe clean, no rinsing needed. Application may be repeated as needed throughout the day. Use twice daily for healthier living areas.

Ingredients: Electrolyzed Water (H2O), Pure Hypochlorous (BrioHOCl®, 0.05%)

Purity Promise: Made with simple and gentle ingredients. Free of alcohol, ammonia, methanol, bleach, triclosan, parabens, quats, 1-propanol, ethyl acetate, artificial additives, and fragrance.
Dilution:
Light Strength: 1 part cleaner to 2 parts water (1:2)
Medium Strength: 1 part cleaner to 1 part water (1:1)
Full Strength: Ready to use

Do not dilute with alkaline water. For optimal storage, keep bottles out of sunlight and maintain a tight seal when the cap is not in use. Do not store long term in dispensing devices. To keep from contaminating the product, users should avoid direct contact of foreign objects (such as fingers, cotton swabs, tissues, or towels) directly into the storage container. For best results, use within 6 months after opening. Store at room temperature or below; bottles may be kept in a refrigerator. Do not taste or swallow.

Due to (1) material compatibilities and (2) the cleansing action of HOCl, we recommend dispensing from original packaging for best results. As desired, product may be transferred ensuring great care that any vessels which the product is transferred to are a quality plastic or glass, and are clean and free of any oils, debris, or foreign chemicals.
BrioPro Surface / Air 500
Sale price

$14.99
Regular price

$15.99
Choose options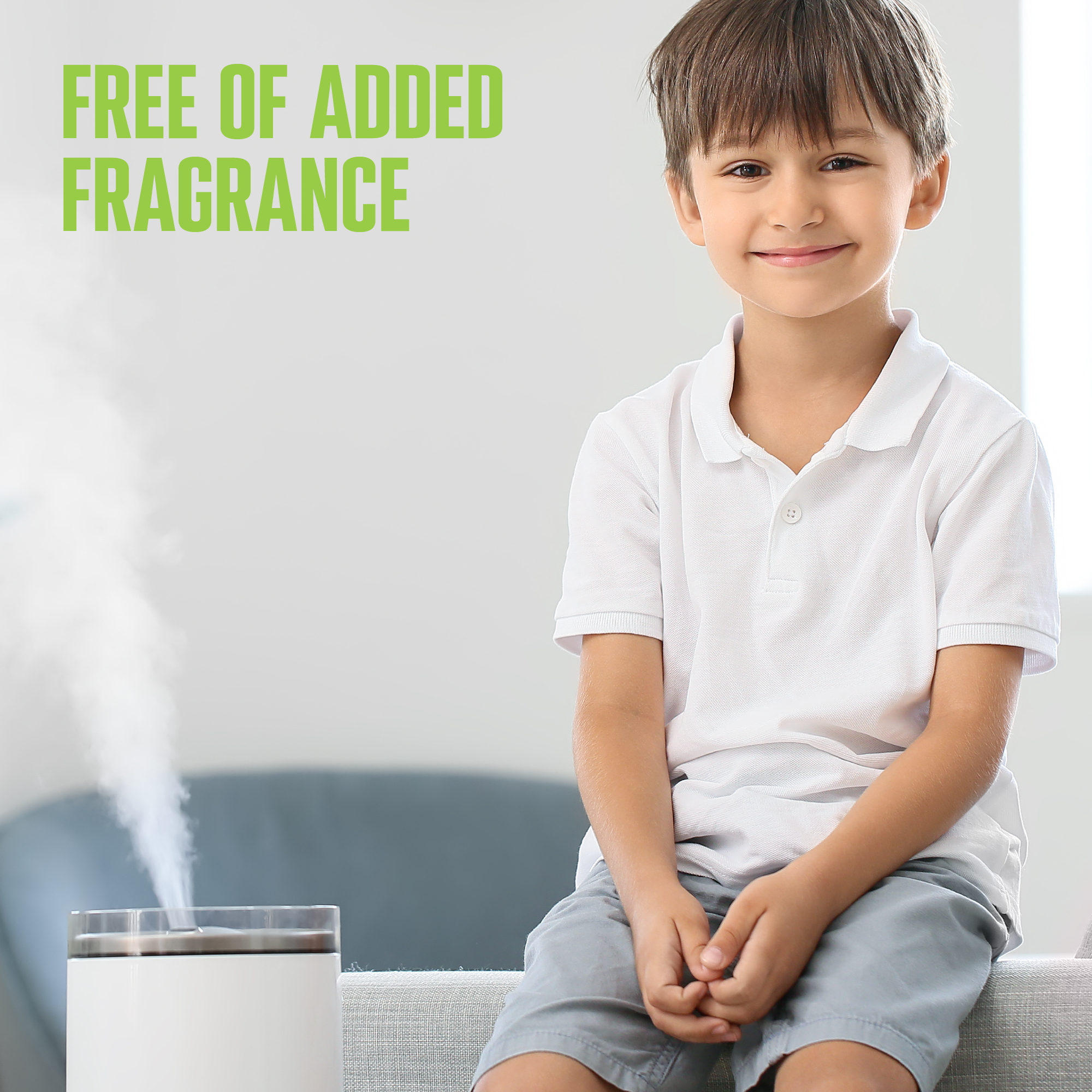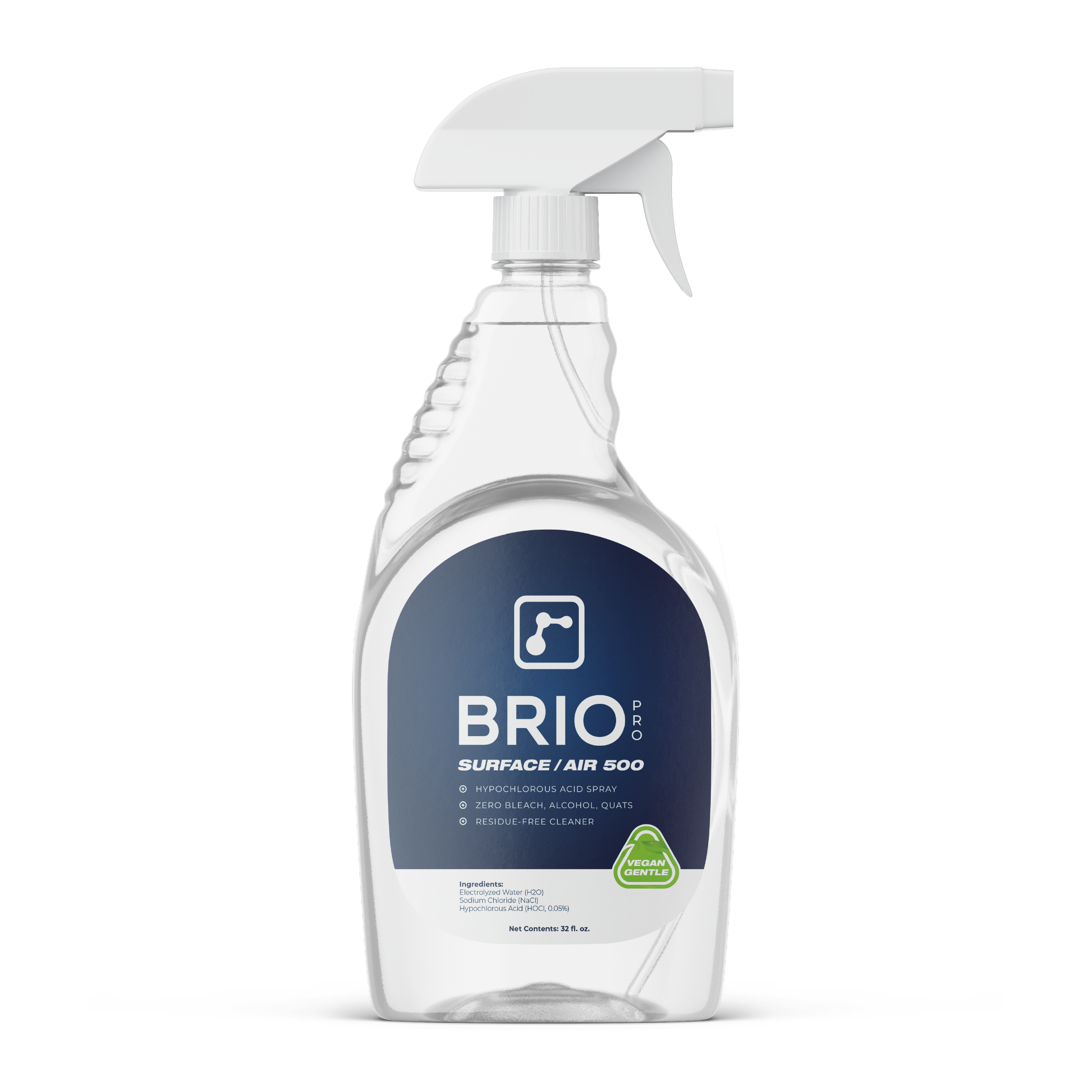 Total 5 star reviews: 5
Total 4 star reviews: 0
Total 3 star reviews: 0
Total 2 star reviews: 0
Total 1 star reviews: 0
100%
would recommend this product
Product Quality
Rated 5.0 on a scale of 1 to 5
Trusted Results
Rated 5.0 on a scale of 1 to 5
Product Standouts

No Harmful Chemicals,

Eliminates Odor,

Great Quality,

Smells Clean,

No Harsh Fumes

Removed Glade Plug-In Smells

When I first moved into my apartment, it wreaked so strongly of Vanilla Glade Plug-In. I cannot handle fake scents. Purchased one of those sanitizer spray gun mister things. Filled it with the Briotech and sprayed ALL the walls, carpets, and flooring and it completely killed the Vanilla Glade Plug-In scent and everything smells nice and new.

Product Standouts

Feels Clean,

Smells Clean,

Eliminates Odor

Can this be used to help keep a hot tub clean?

I have severe reactions to chlorine, I've read up on hydrogen peroxide but it can be just as harmful as chlorine. Same with bromine. I use briotech products all throughout the rest of my home and would rather spend the money on these products rather than other expensive "alternative" chemicals or ionizers in the spa and pool realm.

Product Standouts

Gentle on Surfaces,

Residue Free,

Eliminates Odor,

No Harsh Fumes,

Smells Clean

Great air quality product

Great product to use for better air quality - sleep better at night

Remodeling to Increase Health

We pulled the basement carpet and padding up and immediately noticed irritation in our airways along with a dull headache. We used Briotech's product in a Fogger and all in the family felt better within the hour.

We did a second fogging w Briotech the next day after re-cleaning the basement floor to be on the safe side. Our reactions were similar to mold exposure, and the house had flooded and been remodeled before we bought it. The air has never been better since we used this, we are thrilled and very grateful to have these products. We carry the Topical Skin Spray with us and highly recommend it. Thank you Briotech!

Works SO well!!!

We run a nice AirBNB and someone smoked weed in it. We used this - sprayed all around and any fabrics and walls. And the smell was gone after an hour!! We are full time advocates for this brand and cleaning products now. Love that they are non-toxic and great for a wide variety of guests needs. Buying for my own home now
Reviews Loaded
Reviews Added