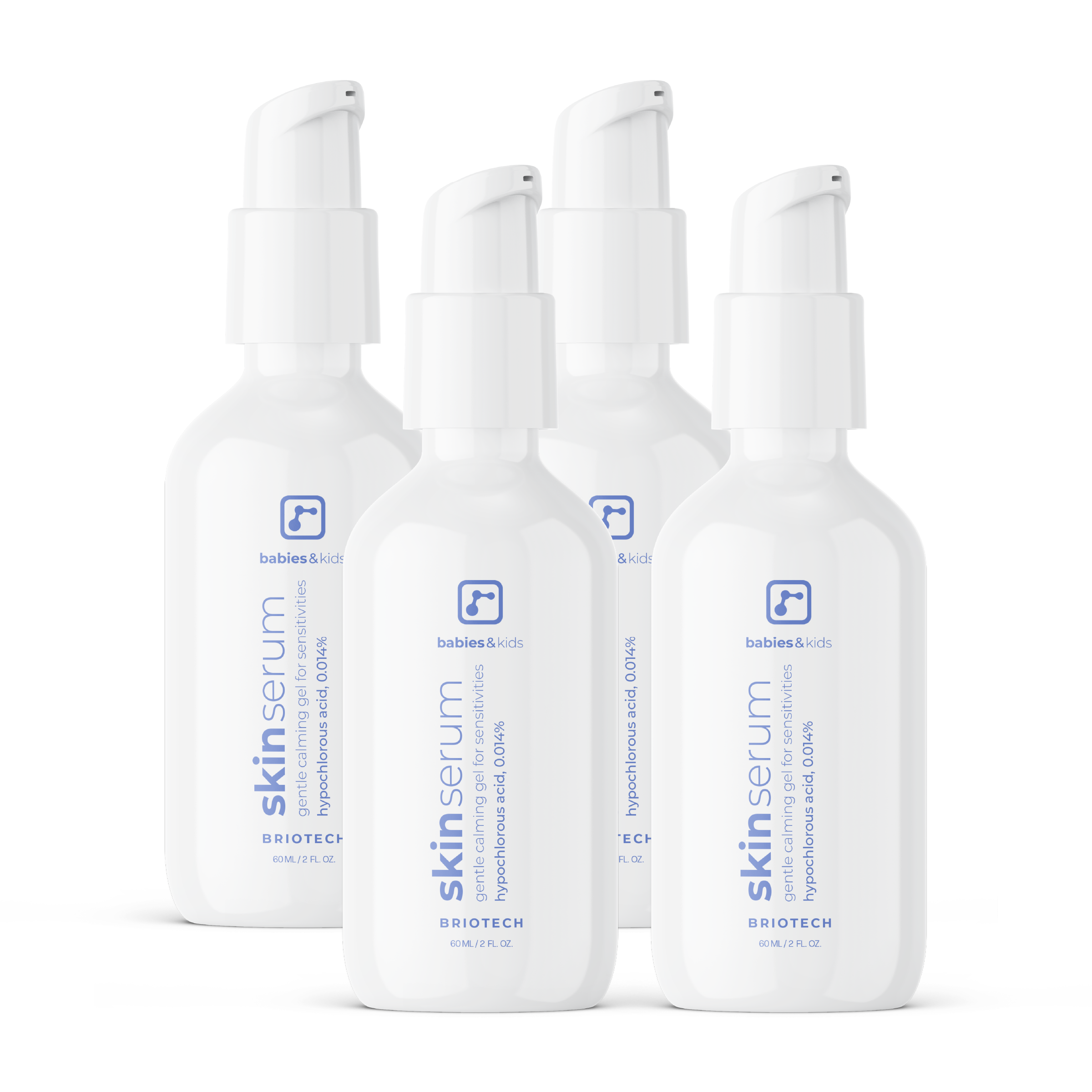 Skin love, for the one you love! A calming gel perfected for delicate skin and ideal for busy parents. Quick drying to provide fast, soothing relief on-the-go, after bathing, or during diaper changes. Gentle for use around eyelids, ears, nose, and mouth.

Quick Drying Calming Gel

Minor Scrapes & Scratches

Helps Relieve Redness
Soothe Sensitivities
Gentle & Vegan
Directions: Shake well, gently massage 1-2 drops onto freshly cleansed skin, and allow to air dry. Use throughout the day as needed. For best results, repeat application 2-3 times daily and use in conjunction with Babies & Kids Skin Love.

Ingredients: Deionized Water (H2O), Mineral Clay, Hypochlorous Acid (HOCl, 0.014%)

Purity Promise: Made with gentle and vegan ingredients. Free of alcohol, antibiotics, petroleum, oil, steroids, sulfates, and added fragrance, and dye.
For optimal storage, keep bottles out of sunlight, do not freeze, and maintain a tight seal when the cap is not in use. Store at room temperature or refrigerate. To keep from contaminating the product, users should avoid direct contact of foreign objects (such as fingers, cotton swabs, tissues, or towels) directly into the storage container. For best results, use within 6 months after opening. Do not taste or swallow. Avoid contact with eyes. Discontinue use if irritation develops.

Due to (1) material compatibilities and (2) the cleansing action of HOCl, we recommend dispensing from original packaging for best results. As desired, product may be transferred ensuring great care that any vessels which the product is transferred to are a quality plastic or glass, and are clean and free of any oils, debris, or foreign chemicals.

Statements have not been evaluated by the Food and Drug Administration. This product is not intended to diagnose, treat, cure, or prevent any disease.
Babies & Kids, Skin Serum
Sale price

$24.99
Regular price

$34.99
Choose options